Wagwear Striped Jumper - Charcoal 35cm

SKU: WW11041
The PURINA WAG WEAR Striped Jumper with its classic look, is the perfect garment to keep your dog warm in winter.
• Available Colours: Charcoal, Charcoal/Red
• Available Sizes: 25cm, 30cm, 35cm, 40cm, 45cm, 50cm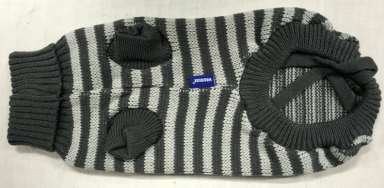 * Please click here to see the
to find the perfect fit for your dog.
To determine the most appropriate size for your dog measure from the base of your dog's neck to the base of the tail.
For more information, please visit this products webpage.
Weight: 1.5 kg