T&S Deluxe Round Bed Frost Grey Size 4 - Giant (760mm diameter)

SKU: TS-DRBFG4
T&S's Deluxe Round Beds are Truely Luxurious !
T&S's extremely popular round bed has had a makeover. Made of macro fleece with a reversible polar fleece cushion insert.
Made from High Quality Fabric
Now with a thicker insert & a zip off cover for easy washing
The frost grey fabric will blend in to any home decor.
Crushed vanilla plush inside is perfect for any snuggly pet.
Five generous sizes to fit any pet
Machine or Hand Washable
Cool Tumble Dry
Washing Instructions
Wash separately
Line dry
Do not dry-clean
Zip up all zippers before washing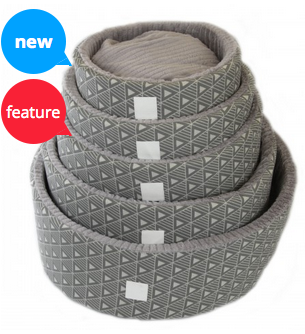 For more information, please visit this products webpage.
Weight: 10 kg